Bottle Blow Molding Production Line Solution
2022-11-10
PET Bottle Blow Molding Production Line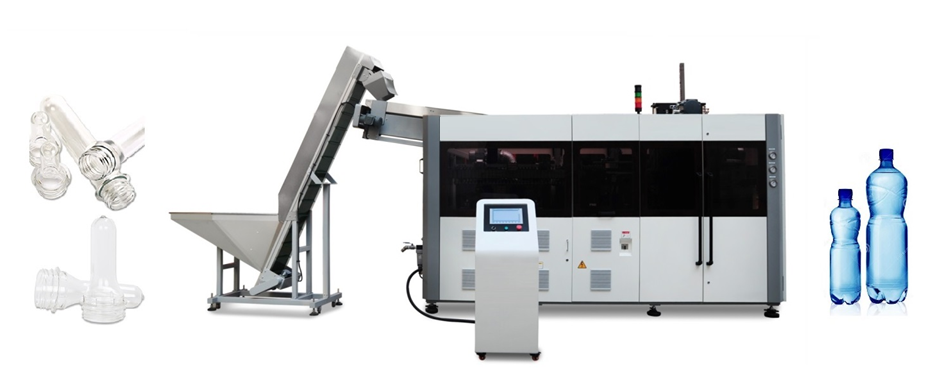 Hautek is focusing on the manufacturing of PET stretch blow molding machines and moulds, to meet the different demands of customers in PET blowing field. Hautek stretch blow molding machine models covered cavity numbers from 1 to 9, single machine maximum hourly output up to 18000bottles, bottle volume maximum to 20litres (5gallons), neck size maximum to 120mm, with various shapes.
Machines widely used in producing bottles for: drink water, carbonated beverage, juice, tea, alcohol, oil, pharma, detergent, sauce, ketchup, cosmetics, packaging container, etc.
---

HAUTEK professionally provides high-speed PET blowing equipment

Cavity quantity: 1~9; Neck size: ~120mm; Blowing capacity: 500~18,000pcs/hour (According to different size/weight);
Automatic production auxiliary equipment
Water chiller, air compressor, air purify unit, air tank, blowing mold, conveyor belt, etc.
 
---
PET Bottle blowing production line one-stop service
Economical financial budget and better model selection plan
According to the customer's demand for blowing capacity & bottle volume, HAUTEK can accurately calculate the bottle dimension, and stretch calculation through data analysis. And match the output of the subsequent filling line to achieve greater economic efficiency.


Provide plant design plan and electrical, waterway planning, automation system suggestions
 Whether it is a new plant or expansion, HAUTEK can provide relevant plant design drawings. This enables the reasonably planned plant to cooperate to improve production and management efficiency, and to provide reasonable automation system recommendations according to customer needs.


 Engineer dispatch & equipment installation & parameter debugging & training service
 HAUTEK will send professional engineers to be responsible for the installation and commissioning of all equipment. Save the qualified parameters during operation and ensure efficient and stable production. In addition, regular machine operation, maintenance and repair training will also be provided.


On-site & 24-hour online service
 Complete after-sales accessories services, agency service points, online video guidance.
 
---
Typical PET bottle blowing production line service
With many years of R&D and production experience, HAUTEK keeps up with market demand and customizes PET bottle blowing project solutions for you. For example: 3/5-gallon PET bottle blowing solution, Automatic multi-cavity PET bottle blowing solution, wide mouth PET bottle blowing solution, automatic high speed PET bottle blowing solution...