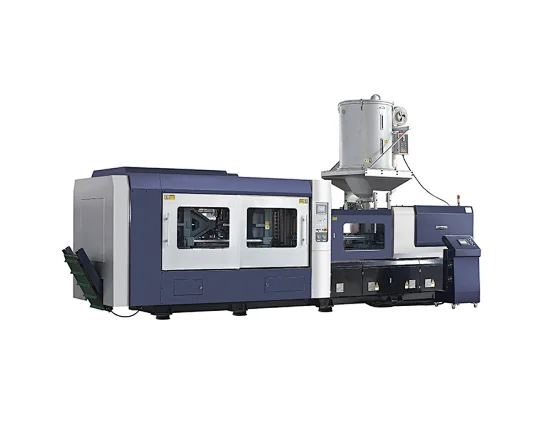 PET Preform Injection Machines P Serial

Technical Data
SPECIFICATIONS OF INJECTION MOLDING MACHINE
200P
240P
300P
360P-1
360P-2
450P-1
450P-2
650P-1
650P-2

A

B

A

B

A

B

INJECTION UNIT
SCREW DIAMETER
mm
55
60
70
70
75
90
100
110
120
SCREW L/D RATIO
L/D
22
22
22
22
22
25
25
SHOT VOLUME
(THEORETICAL)
cm3
594
760
1200
1385
1590
2442
3014
4616
5494
SHOT WEIGHT
g
730
935
1476
1703
1955
3003
3708
5678
6757
oz
26
33
52
60
69
106
131
201
239
INJECTION PRESSURE
Mpa
123
136
145
157
137
177
136
161
136
INJECTION RATE
g/s
279
319
362
413
474
593
863
891
1162
SCREW SPEED
rp.m
0~220
0~180
0~180
0~130
0~120
0~120
PLASTICIZING CAPACITY
g/s
37.4
44.9
65.4
79.7
80
90.2
117.8
123.6
143.9
CLAMPING UNIT
CLAMPING FORCE
KN
2000
2400
3000
3600
4500
6500
OPEN STROKE
mm
450
505
570
660
710
860
SPACE BETWEEN TIE BARS( W x H )
mm
460×460
525×525
590×590
680×680
740×740
900×900
MOULD THICKNESS
mm
180~520
200~520
220~580
250~730
280~780
320~900
EJECTOR FORCE
KN
39.6
61.8
61.8
133
133
281.3
EJECTOR STROKE
mm
140
140
160
160
200
260
EJECTOR NUMBER
n
5
5
5
13
13
17
OTHERS
HEATER POWER
kW
22.7
24.6
35
46.25
52
72.5
A
47.4
54.6
60
65.6
72.8
81.6
113.8
PUMP MOTOR POWER
kW
22
30
37
45
55
55
74
90
110
A
43
60
86
86
131.2
156.3
189
206
MAX. PUMP PRESSURE
Mpa
14
14
14
14
14
14
MACHINE DIMENSION
( L x W x H )
m
5.4×1.6×2.1
5.8×1.6×2.2
6.6×1.8×2.2
8.0×2.2×2.3
8.6×2.3×2.4
11.2×2.6×3.8
MACHINE WEIGHT
T
6
8.5
13
17
17.2
19
19.5
40
42
HOPPER CAPACITY
L
50
550
75
100
150
200
OIL BOX CAPACITY
L
400
480
700
1000
1300
1600

Main Features:
• Professional PET screw and barrel improve preforms quality and finished products rate.
• Full closed cover available for internal cooling equipment.
• Separate oil circular control supports synchronous mould open/close ejection function.
• Back products belt conveyor available for the preform cooling and the connecting continuous automatic production line.

 
Control Unit:

• Adopt KEBA professional computer controller developed by KEBA AG in Austria. High efficient
  CPU 266/400MHZ offers multi-mission control way, in creasing reaction speed and control
  precision.
• PC Base construction provides complete ports for potential modularity enlargement.
• Reasonable operation interface fully supports required functions, multi-languages available.
• Auto optimum programming of PID control ensures precise temperature control.
• Program for robot and auxiliary equipment control can be input to the computer ptogram.
• Provide detailed problem checking.
• High resolving LCD screen display each dynamic action distinctly.
• Internet connectors available for remote control and repairance diagnosis.                                        
 

Injection Unit:

• Creative design of double guide rods, double inear tracks and twin cylinders for balance
   injection,  distributing force on screw evenly and minimizing back pressure of machine.
• Nozzle centering alignment device for simple mold adjustment.
• Anti-ware and anti-corosion screw made from high quality alloy.
• Auto-start barrel heating function.                                           
 

Clamping Unit:

• Optimum design of clamping unit supports machine running stably in high speed.
• T-shaped batch-typemold platen has advantage in little unshaped, high strength and
   easy assembling.
• Adjustable vertical moving mold platen support ensures machine run steadily. Using high class
   self- lubrication-bush at key moving parts in creases the stability and liability of machine.
• Special pre-tensioning tie bar for reliable endurance."                                            
 

Machine Base and Hydraulic Unit:

• Solid foundation welded by high strength section steel makes machine sturdy and durable.

• Two independent hydraulic units available for mold clamping and ejection, saving energy
  consumption and cycle time.                    
• All hydraulic parts are famous international brands such as Vickers, Yuken.                                      
 

Belt Conveyor:

• Exquisite belt conveyor out through rare part of machine gives better cooling result. It can be
  used for connecting continuous automatic production line.


Main Components Suppliers: