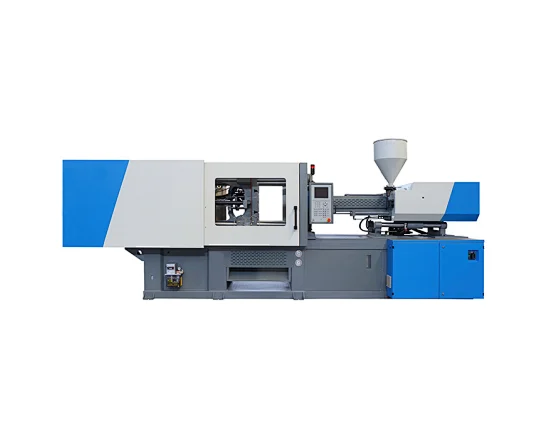 G series machine ( High speed machine for thin wall products )
G Series of injection molding machine to take the high speed and low pressure injection and multi action composite operation design concept, but also utilized optimized clamping unit and lubrication unit and regenerated hyraulic system, thereby it guarantees a shortened circle time for thin wall products. Comparing with normal type machine, high speed servo series machine priors to both circle time and energy-saving, minizing the overload of mechnical structure and hydraulic motor, heightening stability and lifespan. 



Technical Data:
SPECIFICATIONS OF HIGH SPEED PLASTIC INJECTION MOLDING MACHINE
Machine Model
270G
320G
380G
INJECTION UNIT
SCREW DIAMETER
mm
45
50
60
SCREW L/D RATIO
L/D
24
24
24.0
SHOT VOLUME(THEORETICAL)
cm3
357
490
805
SHOT WEIGHT(PS)
g
325
446
733
INJECTION PRESSURE
Mpa
177
168
170
INJECTION RATE
g/s
442
520
800
SCREW SPEED
rp.m
0~350
0~350
0~350
CLAMPING UNIT
CLAMPING FORCE
KN
2700
3200
3800
OPEN STROKE
mm
540
640
710
SPACE BETWEEN TIE BARS(WxH)
mm
580×580
660×660
760×760
MOULD THICKNESS
mm
200~600
250~710
320~780
EJECTOR FORCE
KN
70
70
110
EJECTOR STROKE
mm
150
150
200
OTHERS
HEATER POWER
kW
18
21
25
PUMP MOTOR POWER
kW
30+30
37+37
45+45
MAX. PUMP PRESSURE
Mpa
16
16
16
MACHINE DIMENSION(LxWxH)
m
6.0×1.8×2.2
7.0×2.0×2.4
8.0×2.3×2.4
MACHINE WEIGHT
t
11
14
19
OIL BOX CAPACITY
L
500
600
700

We have more models of this series: 400S, 450S, 550S, 650S, 750S, 1000S, 1200S, details specification upon customers'inquiry.                                                        

Main Features:
• Servo energy-saving.
• Ultra-high precision and long service life of machine.
• Advanced controller, fast response, stable output.
• Perfect safety and protection performance.

Control Unit:



• Special PLC computer controller for plastic injection machine use, control and display relatively independent with high reliability.
• Technical parameters pre-setting and storage function.
• Parameters information protection function.
• Charging barrel temperature deviation automatic adjustment function.
• Abnormal alarm function.
• Front and back door emergency stop button.
• Time monitoring can display the condition of each motion.
• Electric motor safety protection device.
• Robotic pincher interface.
• Material feeding photoelectric switch.
• System hardware I/Q detection function.
• Charging barrel temperature is controlled accurately by computer setting and PID closed-loop manner.
• Screen protection function, prolong the life of screen using.
• Full-enclosed electrical-controlled box, electrical components are neatly arranged, never interfere with each other  

Injection Unit:


• PID temperature control have precise temperature of barrel.
• There are several screws and barrels with optimal design, Respectively, nitride, hard chromium plating, dual-metal,
  which is suitable for different plastic material's request
• Two-guided direct line guide bar support, double-balanced rapid injection.
• The high-torque hydraulic motors offer a stable plasticizing capacity, high-precision Linear transducer device position
  detection enable accurate measurement.
• Multi-injection speed and pressure and multistage pressure settings, switch from the injection time, location, pressure
  control to ensure the quality of molding.
• Multistage back-pressure and pre-injection speed computer-controlled, screw with the features of pre-injection anti-flow
  and clean material automatic.
• Prevent cold material starting function to ensure that the screw, barrel will not to be damaged.

Clamping Unit:



• Five-point double toggle diagonal structure, Tempalate design by computer optimization.
• Sensitive low-pressure mold protection device-eject.
• Multiple stages control for mold opening clamping pressure, speed, positioning control.
• Hydraulic motor-driving gear mold adjustment.
• Special technique treatment, reliable strength.
• Automatic centralized lubrication system.
• Mold open and clamping, eject position controlled by Linear transducer.
• Automatic mould adjustment function.
• Robotic pincher positioning interface.
• Core pulling device is suitable for the complicate structure mould.

Clamping Unit:



• The manual plug valve hydraulic system make the machine having quick and smooth motion response.
• Pressure and flow double proportional valve control.
• High-performance imported hydraulic unit with optimizing allocation.
• The oil tank has a big opening hole so can be cleaned easily.                                                        

Standard Accessory:
• Anti-vobrating pad.
• Spare parts kit.
• Tool box.
• Lubrication oil.
 

Main Components Suppliers: