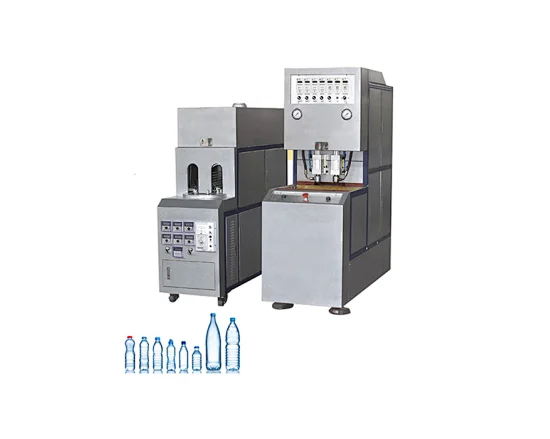 Semi-Automatic Blow Molding Machines(-2,3/-2P,3P)
HG series for manual operation machines
Blow Moulding Process



Main Features
1. Outstanding pneumatic system design and buffering device makes the machine running smoothly with low noise;
2. High quality pneumatic and electric components enhance machine's reliability and low maintenance;
3. Front open clamping is good for easy operating and mold changing;
4. Infrared preheater equipped with frequency converter for higher accuracy heat distribution for the preforms;
5. Pre-blowing helps to have better PET bottle blowing formation;
6. With blow cost and flexbility,this machine is extremely ideal for special bottle makers to have variety bottles and jars.                                             

Technical Data
Unit

HG-2
HG-2P
HG-3
HG-3P
Max.Volume of Product
L
2Cav.(2L)
1Cav.(3L)
2Cav.(2L)
1Cav.(3L)
2Cav.(2L)
1Cav.(7L)
2Cav.(2L)
1Cav.(7L)
Production Capacity
Pcs/H
2Cav.(840)
1Cav.(350)
2Cav.(840)
1Cav.(350)
2Cav.(840)
1Cav.(350)
2Cav.(840)
1Cav.(350)
Neck Size of Product
mm
<75
<75
<75
<75
Useful Area of Mould Plate
mm
380x290
380x290
380x290
380x290
Max.Mould Thickness
mm
200
200
280
280
Min.Mould Thickness
mm
120
120
170
170
Mould Stroke
mm
135
135
210
210
Clamping Force
kn
80
80
80
80
Stretching Stroke
mm
135
135
135
135
Working Pressure
MPa
1.0-1.25
1.0-1.25
1.0-1.25
1.0-1.25
Blowing Air Presssure
Mpa
2.5-3.0
2.5-3.0
2.5-3.0
2.5-3.0
Power of Main Blower
KW
0.1
0.1
0.1
0.1
A
0.5
0.5
0.5
0.5
Power of Preheater
KW
12
12
24
24
A
18
18
36
36
Weight of Main Blower
kg
690
690
800
800
Weight of Preheater
kg
280
280
380
380
Measurement of Main Blower
cm
152X58X175
152X58X175
183X58X180
183X58X180
Measurement of Preheater
cm
135X49X145
135X49X145
145X70X135
145X70X135
1.The production capacity depends on preform weight thickness & bottle shape, and the worker's operating speed.
2. If you want to increase capacity of semi-automatic blow machine, we recommend you use 2 sets of preheaters
    for one main blower.
3. If it is required, we can also supply you the auxiliary equpments(such as blow mould, air compressor, front&rear filter etc.) .
4. Specifications will be changed when the machine improved without prior notice.

Blow Mould